On October 22, 2009 at 01:30 AM, I took my first "International Flight" with no clue, why am I going to Thailand. Might be my friend (also fellow traveller) had suggested, Bangkok is the best place for 'Nightclubs' and I said 'OK, Let's Go'
It was an early morning flight from Delhi to Bangkok with Cathay Pacific, Warm welcome by the flight attendants, dainty food and drinks and after 4 and a half hours, just before the landing what I saw, a Cross look-a-like tunnel, Suvarnabhumi International Airport of Bangkok.
After I deboarded, my jubilation level was on the top and I was asking my friend to click my pictures as much as he can!!!
Took the taxi and left for Hotel, Grand Diamond, wait, wait… while going down using escalators, we took an oath:
"What Happen In Bangkok, Stays In Bangkok".
Where was I ? Oh Yes, so we left for the Hotel Grand Diamond (in Thai's taxi driver language; DieeMonndd).
The first activity was a Body Massage, In-house section of our hotel, the masseuse relaxed my entire body and I was at ease. Sometimes I still miss that experience!
Honestly, I don't remember what all I did the entire day on day 1 except that I ate Egg in Fried Rice!!!
I am a Vegetarian who doesn't even eat Egg and it's so hard for anyone to order a Vegetarian Food in Thailand… So I learned it on the very first day, how to order Vegetarian food: No Meat, No Chicken, No Fish, No Egg… and when a waiter/waitress say OOooo (with a bright eyes)… then consider it "Mission Accomplished"!
Ohh yes ! Around 11:00 PM we went to Night Bazzar (probably rod foi market) and did purchase: Shoes, T-Shirts etc.
Day 2: October 23, 2009
I think it was the first time that I jumped in a Swimming Pool.
Entire day I saw so many outlandish things and I tried hard to get familiar with this city (country). Like:
Hawkers were selling fresh cut fruits which I never heard or imagined the taste… Dragon Fruit is one of them. But who eat Pumpkin or Jackfruit, lol.
NO HONKING… I never realized it that we can drive without Honking. After this trip, I never blow horn while driving.
Time to explore the Nightlife of the City and we went straight to Sukhumvit and walked around there for a while, while waiting for Public Conveyance, All of a sudden I saw a street which was glowing like a PARADISE and seems like that street is calling me! So I went back to my friend and asked him to come with me as I was bit afraid of 'what's going on at that street'
That was the moment when I encountered my first adult arena; "Soi Cowboy" Ahem! Ahem!
What happened there? Excuse me, I took an oath!
But that night I also started the club hopping and Club Climax (now closed) was the first Thai club which I encountered. Loved the ambience.
Night was still young; I was roaming around near my hotel, hungry, as I got nothing to eat, so from SevenEleven I took 2 bottles of Chocolate Shake and sat on the bench of the Bus Stop. A taxi driver came and asked me to take to all the places of the city, instead I requested him "Can I drive your car for 10-15 minutes, just for fun" and I will pay you. He laughed and said 'Ok Ok, No Problem'
Whoaa… I drove at around 120 KMPH on the roads of Bangkok and the driver was also enjoying my craziness and taught me so many things. When that roller coaster ride was over, I asked him 'how much' and he reverted 'ohh no problem'. However I paid 'THB500' as that guy took the risk for me.
Day 3: October 24, 2017
Now on 3rd day I had started considering myself as a LOCAL THAI GUY!
Checked out from Hotel and kept our luggage there and decided to spend the day in Siam Paragon.
I didn't eat anything from the last couple of days so my friend decided to take me to a place where I can have a sandwich; Subway in Siam Paragon. Before that I was under impression that SUBWAY SANDWICH means "A Sandwich which people sell it in Subways (underpass)"
Visited 'Siam Ocean World' where I saw PENGUINS, Tiger Sharks, and it was a heart-warming experience when I saw 'Jellyfish'
I had visited BluO Gurgaon so many times for Bowling and have this leisure activity in Bangkok; I went to BluO Bangkok and right after that, a 3D Movie.
We went to Sukhumvit and started the club hopping (after 3-4 massage sessions)… Bossy, Climax etc. I didn't even realize that it was 03:00 AM and took another massage session. After 1 hour I realized, I was supposed to leave the city.
So we asked the taxi driver that can you take us to Pattaya on one condition that I shall drive the car. He accepted the term and allowed me to drive when we crossed the boundaries of Bangkok. That was such an amazing drive and hit the top speed of 155 KMPH on Bangkok – Pattaya highway.
Day 4: October 25, 2009
After driving for around 3 hours I reached Pattaya at the time of Sunrise and the first thing I encountered was a beautiful Pattaya Beach, a clean road and a belt of luxurious hotels.
Before visiting this city I was planning to stay at A-One the Royal Cruise Hotel but don't remember what was the reason that we didn't checked-in in that hotel. Sooner or later I will definitely stay in that Hotel (Wish No. 14850 😆).
After sleeping for 10-12 hours, I did the makeover and found myself in trendy clothes which suit the spirit of Pattaya.
After roaming around for few hours, I went to see Alcazar Show, which took me to a fantasy world and it took 2-3 hours for me to come out from that fantasy. 😇
Quick Tip: Rent a Scooter/bike for full day else you won't be able to roam around in Pattaya.
The entire night we spent on Walking Street. I don't know what sort of energy was there in my body that I was not going down even at 09:00 AM in the morning.
Life Awakening Moment in Pattaya
After ending the amazing clubbing night at MixX Pattaya, I sat on the stairs of Pattaya Piers to see the sunrise. That moment I had a conversation with a random friend, where she was telling me that 'life is too short, meet new people every day and be a maximal crazy'.
I don't know why but from that moment, I got a change in my personality, all my shyness was gone.
Day 5: October 26, 2009
The hotel I was staying-in was sort of service apartments and I personally didn't even like it. So even after partying for more then 10 hours, I was up and ready to explore new options of stay on Pattaya Beach. Guess what I found, "We at the Hotel, Motel, Holiday Inn".
1st day in Pattaya was gone and next morning we decided to hire a scooter to roam around Pattaya. The whole daytime I relaxed on Pattaya Beach… Also did some water sports, Jetski, for 30-40 minutes.
Day 6: October 27, 2009
Spent the whole day in various activities – Riding various bikes, Tried Thai style Ice cream (Bun, Sticky Rice, Vanilla Ice Cream, chocolate syrup and some flakes on the top) etc.
Day 7: October 28, 2009
Early morning, I left for the Bangkok Airpot to take the flight for Phuket. I was so naive in making the flight bookings that I didn't even check that I booked it for the next month. Thanks to AirAsia Staff, they made the changes by taking certain flight amendment charges.
I was not sure about anything so we did the hotel booking when we reached there. While booking the Hotel, I had realized that may be I require few more days to explore this country, without even having a second thought I called CathayPacific to make the changes and they did it with no extra cost.
By mistake this time I booked a room in my dream location (Ghar, Ghar ke aage Garden, Garden ke aage swimming pool, pool kee aage Beach! ); Kata Thani Beach Resort.
The resort have their private beach, accessible only for guests. A giant swimming pool with Jacuzzi lying there with a crystal clear view of Beach. I think I spent half of my day in that pool. I had the breakfast, juices and lunch while taking the bath.
Probably I will do the same if I will again stay in Kata Thani Beach Resort.
Day 8: October 29, 2009
Early morning I reached to some station where we boarded a boat to a place which was hidden till the year of 2000 and it wasn't supposed to be open for public. But the movie, The beach, of Leonardo DiCaprio, popularized this hidden place of the world. Before leaving for Thailand I was watching that movie (may be 3-4 months ago) and praying from God that I wish I can also visit this Island and god heard it and made my wish come true!.
After 2-3 hours of ride, we reached to our destination: MAYA BAY (Ko Phi Phi Le). I have no words to explain what kind of beauty I saw and what I felt there but I am pretty sure about one thing; that with intentions, god left that place in earth to teach humankind that how heaven is look-a-like !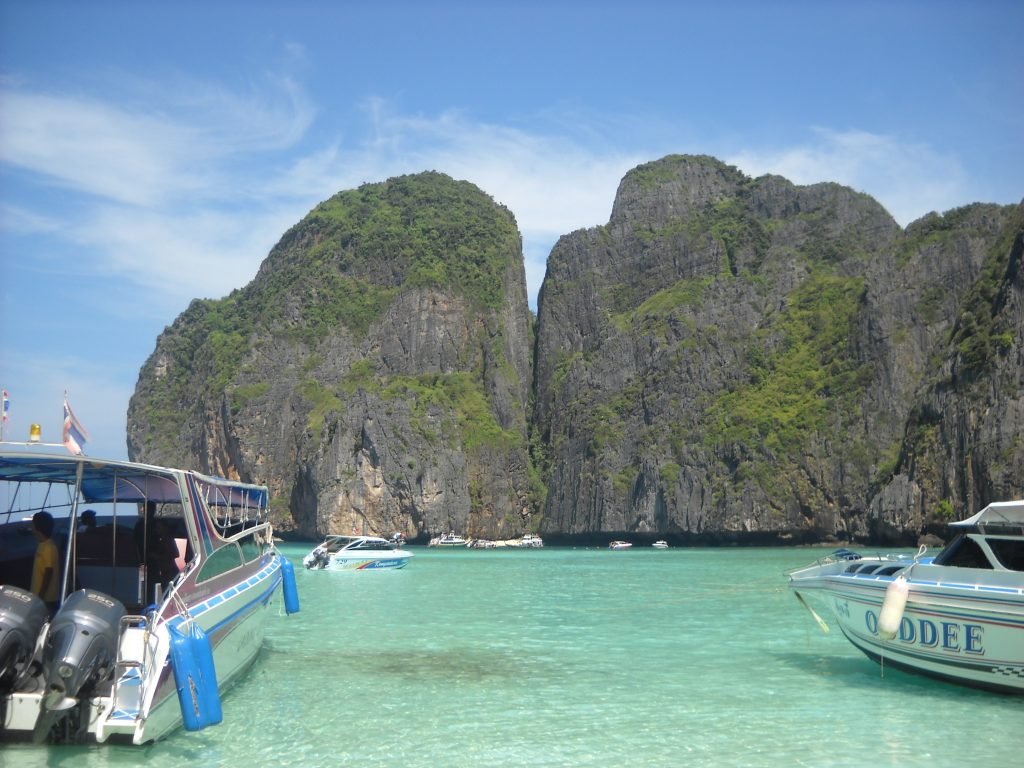 I didn't even know swimming but I was in such a flow that I jumped in middle of the ocean to see the beauty lying beneath the Sea. I saw fishes and creatures, so close, so clear, that even sometimes when I close my eyes I can see them in front of me.
That was a whole day trip and the organizer took us on various other Islands – Phi Phi Island for lunch, Monkey Island and one more Island for Snorkeling.
It was time to leave Phuket and go back to Bangkok where I was supposed to take the flight next day. Came back to the city where it all started, made the booking at Ambassdor Hotel.
Day 9: October 30 2009
My fellow traveller left but I decided to stay there, like, I belong to this place.
Day 10, 11, 12, 13 and 14 (1st Nov – 5th Nov) (Without Camera)
Every day I was staying in a different hotel, on 31st I stayed in Windsor, 1st Nov I stayed in Imperial Tara, 2nd Nov in Forum Park and from 3rd Nov till 5th Nov stayed in Grand Swiss.
Maybe I wanted to see all the possible luxury hotels of the town. Even I do remember that I took the ferry in Chao Phraya River and saw every street / area / corner of Bangkok in these 5 days.
Also cracked a business deal by making some random calls and opened a Branch of my company in Bangkok. It was running successfully till in 2013.
Visa on Arrival got expired on November 5, 2009 and I took the flight back to Delhi with so many mixed feelings which I still feel for this serene country.
Sometime I even feel what if I hadn't visited this country then I wouldn't be the same guy.
If you want to communicate with people, you don't need language to communicate, All you need is a Smile on your face.
After coming back from Thailand, Fear of Traveling in a new country has gone and that spirit has never gone away from me and I am pretty sure that now I can travel anywhere in the world!