The first picture of Halong Bay convinced me that I should visit Vietnam to see this natural beauty with my own eyes.
This was supposed to be the first place I visited in Vietnam, but on my trip to Vietnam, I started my journey from South to North and remembered that Halong Bay is located in Northern Vietnam.
However, the funniest thing was that I ended up visiting it on my last day in Vietnam.
The trip started early in the morning as it was a day tour with a group of 15 people. This time I made sure not to make a mistake and booked a Luxury Group Tour where they provided transportation in a Limousine Van. The quality of the cruise was also different as I had paid $60 USD for this day trip. There are different categories of cruise lines and services for day trips to Halong Bay, which start from $28. After that, there was one for $40-45, and then $60 which I booked. There was also an option for $90.
They also took us to a so-called Pearl Museum, where we wasted a lot of time. However, I highly recommend that everyone simply avoid going inside, as it is an oldest trick of every group tour operator to offer some shopping deals and earn commissions.
Anyway, I boarded the cruise at 12:30 PM and within 5 minutes they started serving the buffet lunch. The food quality was great, but as expected, there were very limited options for vegetarians like myself.
"Drumroll" … Now I moved to the skydeck and got my first look of Halong Bay… I can still get goosebumps from the view I saw with my own eyes.
After 10 minutes, I realized it is a maze of never-ending mountains. Wherever I looked, I could only find stunning views of Halong Bay. I was stunned there for almost 30 minutes, and after a moment, I thought about how we were going to cruise in this maze for another 4 hours… I was like "Wow!"
After an hour, we arrived at Sung Sot Caves (Surprise Cave) and a 100-meter hike took us to the caves. Everyone, including me, was actually 'surprised' by the natural formations… The caves shone like diamonds up close. We stayed there for almost an hour and then began cruising again.
Roughly two hours later, we reached Luon Cave where I tried Kayaking for the very first time. I had always wanted to try but never got the chance until my fate took me to this place to make my first experience Incredible. I went with another fellow traveller, Param from Delhi, who was also an amateur, just like me… and we were having so much fun learning how to operate the Kayak for the very first time. But after trying for 15-20 minutes, we finally got the hang of it and crossed Luon Cave, reaching the center. After arriving at the center, we took lots of pictures and had so much fun there.
Pro Tip: If you have not tried Kayaking yet, save it for Halong Bay.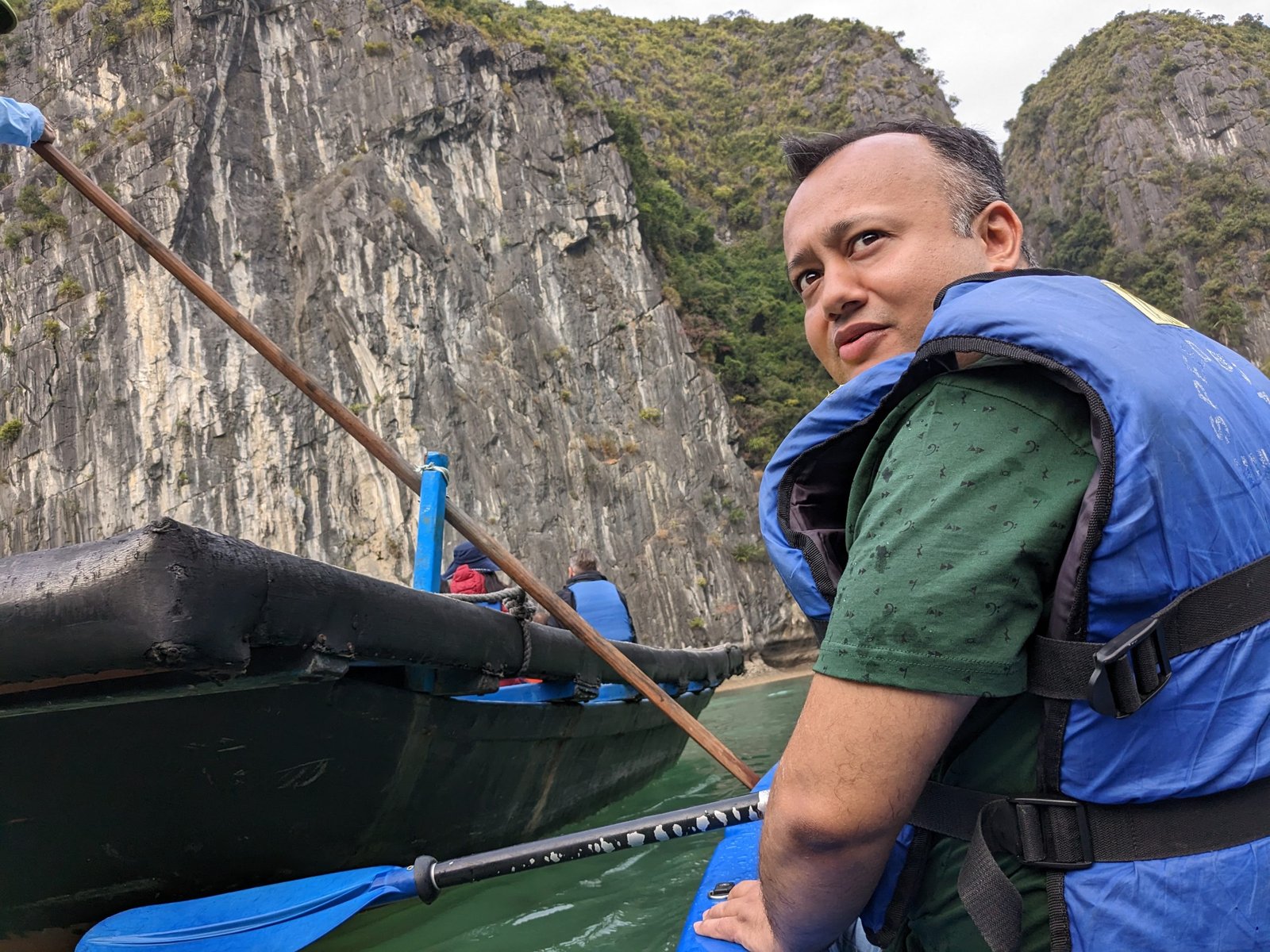 Moving ahead, now it was time to cruise for 1 more hour until late afternoon. Then we reached our final destination: Ti Top Island.
First, I heard the guide saying "Tip Top Island" and repeated it wrong in my video. Lol.
When we made our final stop at Ti Top Island, the guide took everyone to the top for a panoramic view of Halong Bay. However, I realized I did not need to go up for the view because the beach and view of Halong Bay was experience enough. I asked the guide not to include me in the hike and spent about an hour enjoying quality time on the sandy beach, interacting with many other people from different countries. It was truly "My Time."
It was time to return to the deck and start cruising back. After a few minutes, the tour company organized an ultimate sunset party on the upper deck of our cruise. Everyone toasted drinks (I opened a soda can, lol) in Vietnamese style, and then there was loud music with dim lighting.
Immediately after, I watched one of the most beautiful sunsets of Halong Bay. The sun was right at the tip of the mountains and the natural glow, plus background music, made that moment one of the most memorable of my life.
Around 8 PM we arrived back at the pier where we had started, reaching Hanoi at around 9 PM. I did not capture anything from the return journey as I was totally immersed in deep conversations with my fellow group members. We exchanged travel experiences and shared pieces of our personal lives with each other.
The Halong Bay trip was one of my greatest travel experiences. I will go back there sooner or later. Until then…
The Halong Bay trip was one of my greatest travel experiences. I will go back there sooner or later. Until then…
I have come to the conclusion of sharing my written account of my memorable Ha Long Bay adventure. However, if you would like to get an even more immersive perspective, I encourage you to watch my travel vlog documenting the tour of Halong Bay.
Halong Bay
In the vlog, I included lots of footage from the skydeck as we cruised through the karst formations, giving you a first-person view of the stunning natural scenery. You will also get to see clips from exploring the Sung Sot and Luon caves, Kayaking through the emerald waters, and watching the sunset from the cruise boat.
I provided commentary throughout to give context to the locations and share more of my real-time reactions. It's the best way to truly feel like you're experiencing Halong Bay right along with me.